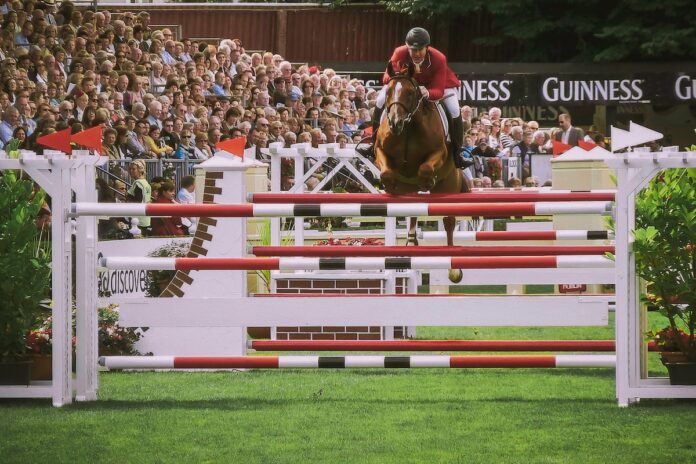 SUPPLEMENTING FOR THE COMING SEASON
By Kate Hore RNutr(Animal), R.Anim.Technol (Cert), head nutritionist at NAF
AMTRA is required by the Veterinary Medicines Regulations to ensure its RAMAs/SQPs undertake CPD. All RAMAs/SQPs must earn a certain number of CPD points in a given period of time in order to retain their qualification. RAMAs/SQPs who read this feature and submit correct answers to the questions below will receive one CPD point. For more about AMTRA and becoming a RAMA/SQP, visit www.amtra.org.uk
As we look towards the longer days of spring and summer, anticipating this year's competition season, it is important owners assess horses' fitness, and put in appropriate regimes as part of their training.
Whether coming back from a period of total rest or quieter work, following injury, or bringing on younger, less experienced horses, the first thing is to establish the horse's condition and workload so you know where you're starting from.
Unfortunately, research shows that owners routinely underestimate Body Condition Score, while over-estimating their work rate. We know obesity is a significant concern in leisure horses, and excess weight will only increase strain on limbs and organs, and reduce performance.
Therefore, we need to ensure horses are fed appropriately for their work level and condition, and encouraging owners to think honestly about that level is a great start.
HOW MUCH WORK ARE THEY IN?
As the level increases, it is advised horses are on appropriate daily joint support, suitable for their work and lifestage. Joints are complex structures which require complex nutritional solutions.
Look for products based on a synergistic combination of joint support nutrients such as glucosamine, MSM, and the glycosaminoglycans (GAGs), chondroitin and hyaluronic acid. With any blend, look for one that includes antioxidants to flush out the damaging free radical toxins associated with joint stress.
Research shows combination formulae are preferable to single ingredients. For customers interested in herbs, they can be very useful in providing comfort where it's needed, but caution is advised. Devil's Claw is a particularly well-known example, but is banned for affiliated competition, so should be used in retired equines only.
Additionally, if choosing those single herb options in store, remember their evidence for long term joint integrity is poor, and best advice would be to stick to a joint health complex, particularly for working horses and ponies.
Increase work appropriately for the stage of the horse, and don't forget the importance of rest days. It is advised horses have a minimum of two rest days a week, which, amongst other things, is recognised to help prevent the occurrence of EGGD (Equine Gastric Glandular Disease).
The stage of workload for each horse should consider both their mental and physical maturity, particularly for some of the large Warmblood breeds, who are not fully mature until eight or nine. As work and travel increase, gastric stress may also increase; so follow our guide to ensure horses cope comfortably with the pressures of the new season.
GOOD GUT GUIDE
Feed a high fibre, low cereal diet.
Feed a small, high fibre feed 30 mins before exercise.
Minimum two rest days a week.
Turnout as much as possible.
Minimise changes in routine, equine companions and human carers.
Feed a targeted digestive supplement daily for total tract health.
Over 70% of the body's immunity is based in the gut, so maintaining digestive health is critical to overall health and welfare. Any dysbiosis (microbial imbalance) in the hindgut may be seen as obvious signs like a change to droppings, or coat condition, or could have a more subtle effect on training.
Slight changes in behaviour, particularly irritability and unwillingness to work, can be an early warning sign of 'overtraining', defined as an imbalance between training and recovery which leads to chronic fatigue. It is advised to vary both the type of training the horse is doing, and the surface they are working on, as the ideal way to provide both physical and mental variety in their work. Remember, even top dressage stars enjoy hacking out as part of their regular routine.
For most horses, unless in very hard work, their basic diet will provide sufficient protein. However, what is important for muscle health, is quality rather than quantity.
Supplementing with targeted amino acids, including Lysine, known as the 'First Limiting Amino Acid' due to its importance, is advised. The amino acid complex should also include L-Glutamine, known to be depleted by exercise, and an important nutrient for general health and immunity.
Beyond amino acids, it's important to ensure sufficient zinc is provided, as muscles hold half the body's store. Together with antioxidants such as Vitamin E, Selenium and natural bioflavonoid antioxidants as found in plants like rosehip; or marine algal polyphenols, as found in, for example, chlorella or spirulina.
Finally, for recovery, don't forget to supplement with broad spectrum electrolytes whenever horses are working or travelling to replace sweat losses.
Selected references
1. Geor R.J, Harris P.A, Coenen M (2013) Equine Applied and Clinical Nutrition. Pub: Saunders Elsevier
2. Lindiger M.I (2020) Do horses receive optimum amounts of glutamine in their diets? Veterinary Science Research. 02(01)
3. McGown C.M & Whitworth D.J (2008) Overtraining syndrome in horses. Comparative Exercise Physiology. 5(2) p57-65
4. Morrison P. et al (2015) Perceptions of obesity in a UK leisure-based population of horse owners. Acta Veterinaria Scandinavica 57 (Supp1) 06
5. Nutrient Requirements of Horses. 6th Rev Ed. (2007). NRC. Pub The National Academies
6. Rendle D et al (2018) Equine obesity : current persepctives. UK-Vet Equine 2(5) Sep/Oct 2018
7. Rendle D et al (2018) EGGD Consensus statement. UK-Vet Equine Jan/Feb 2018
ETN's series of CPD features helps RAMAs (Registered Animal Medicines Advisors/SQPs) earn the CPD (continuing professional development) points they need. The features are accredited by AMTRA, and highlight some of the most important subject areas for RAMAs/SQPs specialising in equine and companion animal medicine.
AMTRA is required by the Veterinary Medicines Regulations to ensure its RAMAs/SQPs undertake CPD. All RAMAs/SQPs must earn a certain number of CPD points in a given period of time in order to retain their qualification. RAMAs/SQPs who read this feature and submit correct answers to the questions below will receive one CPD point. For more about AMTRA and becoming a RAMA/SQP, visit www.amtra.org.uk
Showjumping photo by K. Mitch Hodge