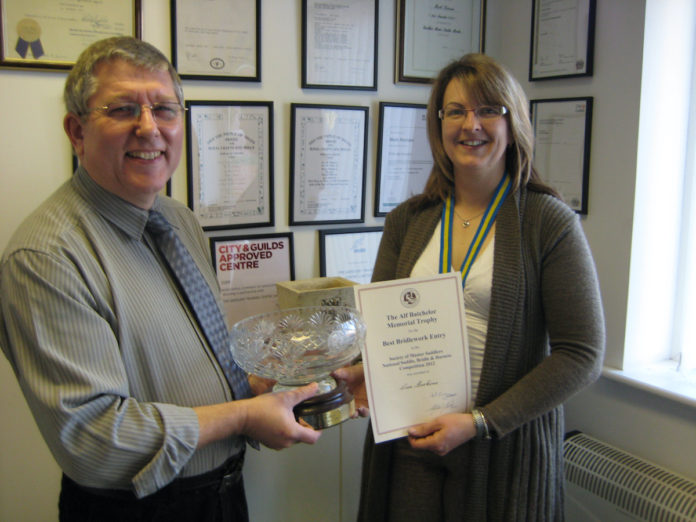 Hard work and high standards mark out this successful saddler.
Dorset based Lisa Hoskins has been named ETN/SMS Bench Saddler of the Month for September.
This award, presented in conjunction with the Society of Master Saddlers (SMS), recognises those who uphold the highest standards of leather craft skills.
Lisa was nominated by renowned saddlery trainer Mark Romain who says: "I first met Lisa 30 years ago when, as a 16-year-old, she had just left school and become apprenticed to the saddlers, Miles & Son of Dorchester.
"They enrolled Lisa onto courses with The Rural Development Commission in Salisbury where I was the saddlery training advisor. She was amongst the first to achieve the City & Guilds Saddlery Skill Assessments at Level 2 and 3 in Bridle, Saddle and Harness-making.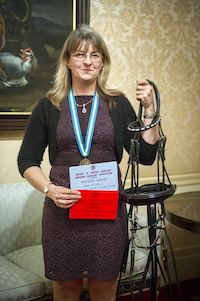 Eye for detail
"I remember Lisa being very keen and having a good eye for detail. This turned out to be a real asset as she has gone on to win the Open Bridle Class of the National Saddlery Competition three times and has also won The Alf Batchelor Award for Best Piece of Bridlework. More recently, she has judged at the competition too.
"In the early 2000s, Lisa returned for further training, this time in side-saddle refurbishment at my own Saddlery Training Centre.
"Miles & Son Saddlery closed not that long after Lisa's apprenticeship was complete. She started her own business and has never looked back.
"She works hard and, whether it's saddle fitting or making bespoke bridles, her aim is always to achieve the best possible outcome and highest of standards. It's gratifying to have played a small part in that success. Lisa very much deserves the recognition of Bench Saddler of the Month."
ABOUT Lisa Hoskins
It was Lisa's Gran who introduced her to horses before she could walk, and she's been riding ever since.
Lisa has always loved saddlery too. "As a teenager, I was constantly cleaning my tack and making browbands out of ribbon. I loved to paint, draw and make things and have been into craft making skills from a young age."
Having always desired a horsey job, saddlery seemed a good choice for this creative young talent. Having been taken on at Miles & Son, Lisa was apprenticed to saddler Bob Thomas. And her enthusiasm for her craft has never dimmed.
"I love making bridles," she says, "especially ones with bling browbands. I'm most proud of the bridle I made for the National Competition in 2012. It won the Best Bridle in Show."
Dog collars and yachts
Lisa enjoys many aspects of the trade, but confesses that saddle fitting is among her favourites. "It gets me out of the workshop, and I get to meet some lovely people and horses; many clients have become good friends."
And the worst? "Having to repair tack which hasn't been cleaned…"
Over the years, Lisa has been asked to make several unusual items. "A memorable one was a cover for the steering wheel of a large yacht – that was something different!"
Village workshop
These days, Lisa is based at her own workshop in the North Dorset village of Kington Magna.
As an SMS Master Saddler and Registered Qualified Saddle Fitter, her work varies hugely from making a dog collar to fitting and flocking saddles and putting zips in boots.
Industry changes
Lisa cites research carried out within the industry as making a massive difference to saddle fitting and bridle design. "When I started, many items of saddlery were very traditional; now we're leaning more towards equine comfort across every aspect of the sport."
In her precious spare time, Lisa loves being with her own horse who she competes in dressage. "It's wonderful to combine my work with my passion for horses and riding in general."
How to nominate a bench saddler
Everyone is invited to nominate bench saddlers they feel deserve to be named ETN Bench Saddler of the Month. Candidates for the award must be members of the SMS and based in the UK or overseas.

To nominate a bench saddler (or more than one), email editor@equestriantradenews.com and tell us why this person deserves to be put in the spotlight. Please include the bench saddler's name and business name too.