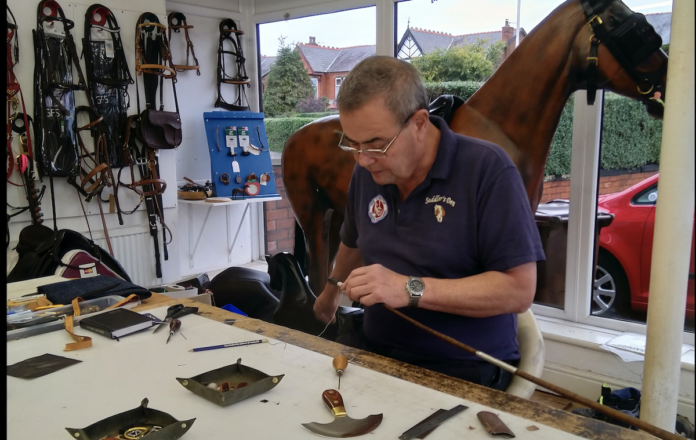 Chris Taylor, of Southport based Saddler's Den, has been named ETN/SMS Bench Saddler of the Month for January.
The award, presented in conjunction with the Society of Master Saddlers (SMS), recognises those whose good practise is making a difference in the saddlery industry.
Chris was nominated by Master Saddler Frances Roche who says: "Chris is such a talented and kind man. He has trained many apprentices to a very high level and any of them will tell you how generous he is with his time and knowledge.
"Chris was president of the SMS in 2018 and 2019 and has served on the executive committee for many years."
Having established his Merseyside business Saddler's Den in 1996, Chris provides saddlery workshop services from making bespoke items to a complete repair and saddle fitting service.
His more eclectic customer base includes interior designers to fashion suppliers, the latter often buying for the Japanese market.
From an early age, Chris was fascinated by how things worked. On joining the Scouts, he developed an interest in macramé and leatherwork.
But it wasn't until acquiring his own horse in his 30s that he wanted to know more about equestrian items.
"I'm basically self-taught," he says, "buying items at auctions, taking them apart and then rebuilding them."
Chris's most unusual commission came while he was working on the Kevin McCloud - Hut by the Beach TV series. The task was to get a raft to float using only sheep-skins for buoyancy.
Another unusual project was a month in China with Cambridge University's archaeological department, reconstructing a 2,800 year old saddle.
For Chris, being a bench saddler is not a job, but a way of life. "It fires a passion to produce quality, well-made items," he explains.
"No two days are the same. I can honestly say that, since being in the trade, I've never woken up thinking 'oh, no I've got to go to work'. I look forward to the challenges the day brings."
Of the many changes he's seen in the industry, Chris feels that research has contributed greatly to equine comfort when it comes to making and designing items.
How to nominate a bench saddler
Everyone is invited to nominate saddlers they feel deserve to be named ETN Bench Saddler of the Month. Candidates for the award must be a member of the SMS and based in the UK or overseas.

To nominate a bench saddler (or more than one), email editor@equestriantradenews.com and tell us why this person deserves to be put in the spotlight. Please include the bench saddler's name and business name too.