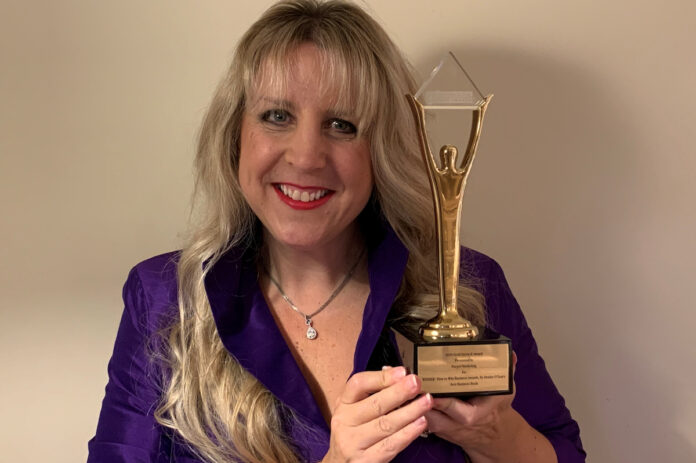 Bagging a business award delivers publicity and prestige for minimal outlay. An expert reveals how to be a winner in 2021.
Winning a business award is very appealing. The shiny trophy, the congratulations, the amazing promotional opportunities – the respect of your peers.
A win also motives your team, drives competitive advantage and secures trust in your business.
Some companies annually pick off accolades. How do they do it?
ETN asked Denise O'Leary from Purpol Marketing, author of the best-seller WINNER - How to Win Business Awards for some tips…
Many business owners and small firms dream of the profile they could create and look on in admiration at other award winners. Lack of confidence is an often-cited barrier to entering awards, alongside limited time and resources.
In fact, there's a proven formula for winning awards; each award entry needs to be treated as a bespoke marketing campaign.
Here's how to take home that trophy…
Promote your unique selling point. Every company is different; determine what makes you stand out, makes your business memorable and why your clients choose you. Focus on this content to make your entry impactful.
Visualise that win. Understand why you want to win. When you know this, it will educate you about the process you must follow and the awards you should target. Build an awards calendar; finding the right awards to enter can be time-consuming, but the good news is that most are annual. So rather than having to do the leg work each year, build a calendar of details, entry closing dates, etc. Then you won't miss opportunities.
Define: what do you want to be known for? When deciding which award or award category to enter, consider the relevance of that award to your business. There are a huge number of awards out there, so identify specific categories in which you can stand out. Do you want to be known as an entrepreneur, a coach or a leader? What about the best of your industry specialism? If you have limited resources, concentrate on the one you most want to win.
Plan carefully. Choose the right award to enter, then take the necessary time to do your entry justice. This involves a planning stage, a scripting stage and the essential final proofing stage.
Check entry criteria. Is there a minimum turnover requirement? Who took home the trophy in previous years? Is there a trend toward larger organisations with a national profile or companies of all sizes? To give yourself the best chance of winning, these details must be evaluated and matched against your individual and company attributes.
Can you answer all the award questions? This might sound obvious, but confident responses hugely influence the likelihood of success. Be cautious too. If you're asked to submit a business plan, do you want to reveal your future direction? If you're asked for accounts, do you want to reveal this level of financial detail?
Evidence is key. Award entries give you the opportunity to document your achievements. But unless you do yourself justice on that entry form, the judges can't give you the credit - even if they are already aware of your business. Evidence is key, and what they might already know about you cannot be considered unless it is presented.
Give the judges what they are looking for. Judges look for evidence to back up entrants' claims. They want to see how you lead your industry, and require you to validate your story. They are interested in challenges faced; so identify how you overcame them. This can include insight from staff about why they enjoy being part of your organisation; or your activities alongside the day job such as charitable works and community engagement. Being sincere and explaining your challenges is very powerful as it shows you're constantly learning.
Tailor your entries. Each award is likely to be judged individually, so tackle each award entry independently. The key to winning awards is in meeting and exceeding the set criteria, so every entry must be bespoke and tailored in content and language to match the award category you are entering.
Get client testimonials. If someone outside your business is prepared to go on the record to say how good it is, it's far more powerful than coming from you alone.
Be honest. Don't lie, make up figures or avoid mentioning something that the general business community will know about you. If you have had a challenging year, say so. Awards' judges are usually experienced business owners, investors and experts in their fields; they can see through any attempt to cover up weaknesses.
Has the entry told your story? Invite the judges to engage with your business journey. Provide an authentic insight into your organisation and how it operates in good and bad times.
Do you have the capacity to win? Almost certainly - yes, provided you choose the right award for your company and dedicate the time to write a compelling entry. It's a myth that only big companies win awards… but you have to be in it to win it.
Denise O'Leary's first book WINNER – How to Win Business Awards has just won a gold Stevie Award in the Best Business Book category in the 17th Annual International Business Awards. It's available at www.winnerhowtowin.com
Denise also provides bespoke consultancy on marketing strategies, bid writing and awards entry. Contact her at denise@purpolmarketing.co.uk or call 00 44 1249 481411.