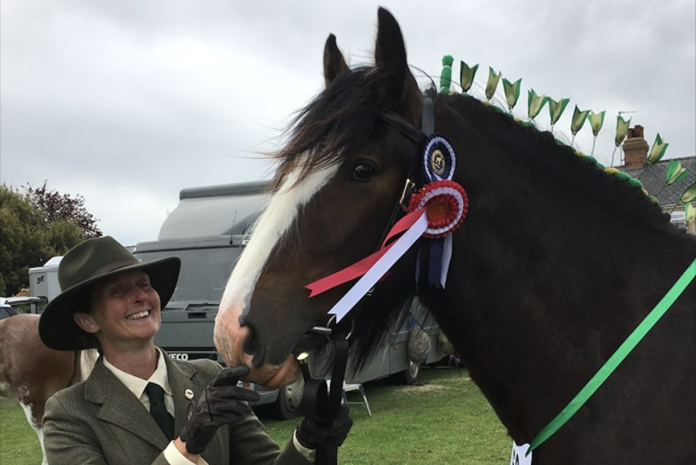 Cambridgeshire saddler to pass on "critically endangered" skill to next generation.
Saddler Carolyn Truss wants to save the secrets of making traditional straw-filled collars for heavy horse harness.
Now the Horningsea, Cambridgeshire saddler has been awarded funding by the Queen Elizabeth Scholarship Trust (QEST) to pursue her goal.
"Horse collar making [in general] is listed as a 'critically endangered' skill", says Katherine Boyle of QEST. "And there are only around five specialists in the UK able to make straw-filled collars."
Carolyn plans to use her QEST funding to train with John McDonald, a harness and collar-maker based in Somerset.
She'll then extend her workshop to make room for an apprentice to ensure these skills are passed on to the next generation.
Carolyn has over 20 years' experience in bridle and harness-making. She started working with leather in her early 20s. But it was while working for the National Trust that she developed a love of heavy horses and their harness.
She is now a Master Saddler and Harness-maker, and member of the Society of Master Saddlers (SMS).
How to apply for scholarship funding
Applications for the latest round of Queen Elizabeth Scholarship Trust (QEST) funding open next month.
Talented equestrian craftspeople are urged to apply for up to £18,000 to support further training and education.
QEST is run by the Royal Warrant Holders' Association to support Britain's cultural heritage and sustain skills in traditional and contemporary crafts.
In its 30 years, QEST has awarded nearly £5 million to 600 individuals in 130 different sectors from guitar making to leatherwork, thatching to enamelling. There have been beneficiaries in saddlery, farriery, bridle-making, whip-making and harness-making.
Applications for QEST funding are invited twice a year; the next round is open 12 July – 16 August 2021. For more details on eligibility criteria, and to apply, visit www.qest.org.uk/apply
QEST was founded by the Royal Warrant Holders Association in 1990 to celebrate the 150th anniversary of the Association and the 90th birthday of HM Queen Elizabeth, The Queen Mother.