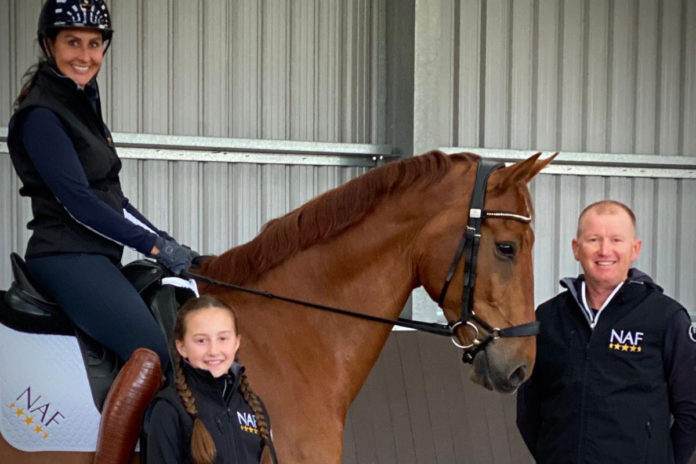 Mum, dad and daughter have each enjoyed international success.
NAF has announced an official partnership with the multi-talented family behind Team Hughes.
Dressage riders Gareth and Rebecca Hughes have a collection of national and international titles between them.
Gareth has been a member of European and world championship winning British teams with his top horse Classic Briolinca.
The couple's 11-year-old daughter Ruby competes in vaulting and has represented her country in this exacting equestrian sport.
"Not only is Team Hughes a force within the dressage world, there are also exciting times ahead within vaulting," said NAF's Mel Newman.
"Given our official partnership status with Team GBR, it makes complete sense to be able to further support the horses of Team Hughes and their continuing journey to 2021 and beyond.
"All horses will be supported with bespoke advice and Five Star support from us here at NAF whilst helping us to develop the business further in the UK and internationally."
"Best in the business"
Gareth, Rebecca and Ruby Hughes describe NAF as "the best in the business.
"With competing internationally, we have to be very careful with what products we put on and into our horses," they added.
"NAF's processes in the making of all their products are done under the strictest of guidelines to guarantee anything that leaves their factory is of the highest quality."
NAF is a UFAS (Universal Feed Assurance Scheme), GMP+ (International Feed Assurance Scheme) and BETA NOPS (Naturally Occurring Prohibited Substances) accredited company.
This enables it to guarantee full traceability on all ingredients used in its formulations, which are also selected in compliance with the FEI guidelines for Clean Sport.
Team Hughes will benefit from NAF's premium range of Five Star brands which include Magic, GastriAid, Superflex Senior, ProFeet and Recover.